Make your own at CommentYou.com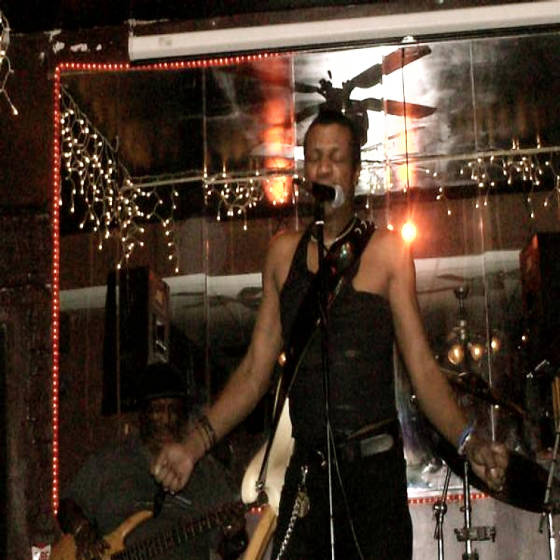 Melvin "Guitar" Williams a native of Brooklyn is the newest attraction amongst blues musicians in New York City area along with his band the "The Brooklyn Players". Melvin and his band have travelled around leaving no unsatisfied audience, always receiving standing ovations and the crowd at the end of every show walking out the door singing his songs. His newest CD titled "Landlord Knocking" is truly an inspirational accomplishment.
The Best Blues Singer And Performer Since B.B. King "Melvin Williams"
Reviewer: Jacqueline Amos
Melvin Williams; the B.B. King, the Mighty Joe Young, Eddie Bodyd,Juke Boy Bonner, Big Joe Williams,JD Short, all in one "Melvin Williams" have made his mark; the blues masters live within. Melvin Williams the greatest Blues Singers and Guitar player who ever walked on stage. What is blues? Its that down home feeling; that will make a blind man see; that's right Melvin Williams; the best guitar players in New York City. I recall Melvin at a gig; A Club Call the Tar Hill Lounge. The name of the song is call Pam; The Landlord Knocking. Many try to sing the blues, but when it comes to Melvin Williams, believe me the man will take you back to the country; and before you know it; you will be taking off your shoes, and begging for the next drink. Somebody help me please. The man was down on his knees picking the threads to his guitar; lord he never missed a beat; I have did a few gigs with Mr. Melvin Williams, and believe me I have not herd are met; one blues singer that can top him. Not only Melvin Williams a Blues Singer; also Rhythm and Blues, I have seen Mr. Williams bring tears to a whole audience of women's eyes; this is not just a review; this is a reality Melvin Williams the king of blues.